One of my favorite movies of all time is Drop Dead Gorgeous.
It's an old 90's comedy full of patriotism, white trash beauty queens and the best one liners of all time.
Filmed documentary style showing all of the girls running for The American Teen Princess Pageant in 1999.
Rent it I promise you won't be disappointed.
Here's a taste of some of the wonderful the wardrobe choices…
The sequined american flag baseball cap.
The USA inspired cheer outfit.
And of course the Mount Rushmore inspired headpiece.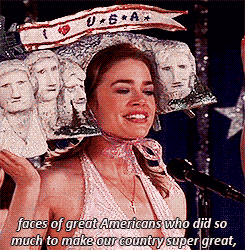 There's so much more but I don't want to give it away so make a weekend movie night out of it.
My point is lately, due to the past two holidays, I've been seeing Patriotic clothing all over the place.
Scarves, shorts, jackets, tops, literally everything you can imagine.
Some of this stuff you'll only wear once annually on the 4th of July. As follows:
I'm not saying it's a negative thing to represent your country through your clothing throughout the rest of the year
but when your sweat shirt is singing "America The Beautiful" in February you may want to consider adding a
classic piece you that you can wear the rest of the year with your various outfits.
Part of de-cluttering is getting rid of those clothes that you only pull out once a year if that.
On average Americans wear only 10-20% of what's in their closet.
That's insane.
Most people in the world only have 1-4 different outfits if that.
Drop off the excess at Goodwill, Deseret Industries, Savers or the Salvation Army.
You'll be doing a great thing for someone else somewhere in this big world and you'll be helping yourself!
Here are some of my favorite American inspired looks.
See you can still be patriotic and classy at the same time.
Get your whites, reds, blues, patterns, denims and mix them all together.
Find things you already have in your closet.
Invest your money on tailored classics that you can wear over and over again with other combinations.
I found a black cotton tank that had a bald eagle in flag print with words on it saying "Live Free"…
Holy Patriotism. Thank you Ross $4.00
I don't wear navy as much so I knew that I would wear black a lot more through the rest of the year.
I have had a long cotton red maxi skirt for a while now that I love. Very basic.
I can wear it year round with tanks, sweaters, sandals or boots.
Then I paired it with black patent leather sandals, a black Tommy Hilfiger bag and my marvelous white denim jacket.
A red marble bracelet, gold hoops and red lips.
USA is a ok.
Loved this look.
Very breathable, patriotic, simple basics that I can reuse over and over.
Photos by: Alyssa Nicole Photography
XO